ORDER PROCESSING/SHIPPING
• Orders processed within 24-48 hours when order is processed without back orders.
• All freight is shipped F.O.B. Atlanta, Georgia via FedEx Ground or FedEx Freight (can include other line depending on location)
• We do not ship C.O.D.
• Total shipping charges include packaging, handling, and insurance.
PAYMENT TERMS
• In order to expedite the shipping time without delay, the new customer's first order must be processed via Credit Card or prepaid by Check in advance.
• NET 30 REQUIREMENTS: Customer must fax/e-mail their complete credit references, nature of business, contact information such as contact name/title, fax, phone, email, bank contact information; for vendors that have not ordered in the past two years, resale certificate, years of establishment and all other necessary information are required. Credit reference form can requested from our offices.
RETURNS/DAMAGED GOODS
We are constantly working to make sure our lamp shades are produced and delivered for your satisfaction.
•In case of damage or defect, it is imperative that you contact us in writing via fax or email within 5 business days from the delivery date. Please email or fax to initiate correspondence for any returns. Each case is reviewed individually.
• We stand behind our products and want you to be a repeat customer. If defective items are due to poor craftsmanship we will replace immediately, free of charge.
• Lighting and accessories are subject to separate return and exchange policies. Please contact customer service for more detailed information.
• If your order is damaged in transit, please do NOT refuse the delivery. Our shades are packaged very well and can survive a surprising amount of carton damage. Upon inspection, if the goods are damaged please FAX or EMAIL ALL NECESSARY DOCUMENTATION TO RDI's TOLL FREE FAX NUMBER 1-800-251-0931
• Please email us with a picture of the damaged shade/box so we can track the return, file the proper claim paperwork, send you a replacement right away, and keep you as a valued customer.
• Please keep any packaging in case a claim has to be filed.
• Slight imperfections may occur and are not to be construed as damages or defects.
BACKORDERS
• Unless otherwise notified, we will ship all back-orders when items become available.
• Partial shipments will be invoiced separately. YOU MUST SPECIFY ON EVERY ORDER IF YOU WISH BACK ORDERED ITEMS TO BE CANCELLED. We cannot guarantee compliance with blanket instructions such as "cancel all back-orders" unless they are included IN WRITING on the face of each individual order, and are handwritten or typed in the body of the order.
MISCELLANEOUS
• SMALL ORDER CHARGE: Minimum new opening order is $250, Minimum reorder is $100 — $20.00 Service charge with credit card payment on all orders under $100.00
• UN-DELIVERABLE SHIPMENTS: Additional charges apply. $10.00 for any rerouted shipments resulting from refused shipments, "not at home", moved, or any other non-deliverable reasons beyond control of the factory. We Gladly Accept Visa, MasterCard, Discover and American Express
• DISTRIBUTION POLICY: Possession of our catalog and/or price list does NOT constitute authority to purchase from, or an offer to sell by, Royal Designs Inc. Royal Designs Inc. sells on a selected dealership basis, and the right is reserved to decline orders from any account.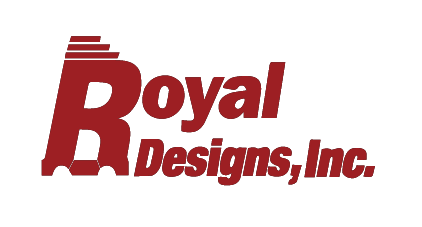 Regal Design For The Discriminating Eye
Office Location
515 Commerce Park Drive
Marietta, GA 30060
Open Monday – Friday 8:30am-5pm